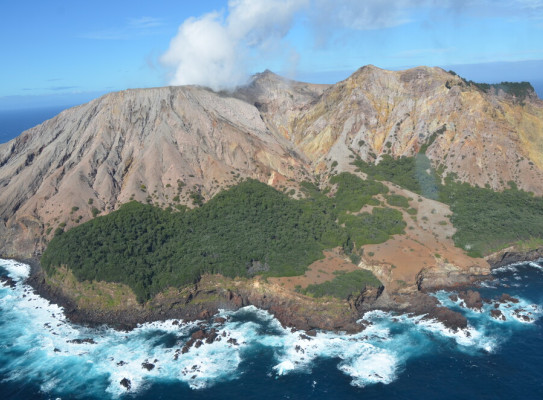 Experts in geophysics, physical volcanology, tsunami, probabilistic hazard assessment, emergency management, science education and communication are investigating the above- and below-water hazards from Aotearoa New Zealand's near shore island volcanoes.
To support infrastructure and asset-owners, primary industry and communities to prepare and respond to near-shore volcanic hazards, we must first understand their potential risks.
We are building the first seabed-to-summit, multi-physics anatomy models of two near shore volcanoes: Whakaari/White Island and Tūhua/Mayor Island. Knowing the physical anatomy of each volcano enables us to locate magma reservoirs, areas of weak and strong rocks prone to collapse, simulate past and future eruptions, pyroclastic flow, ashfall and tsunami, develop hazard maps, and to assess the likelihood of these hazards occurring.
Probabilistic hazard forecasting coupled with new hazard impact knowledge will enable the establishment of safe access and development zones. Understanding the full range of hazards from these island volcanoes will allow for the development and tailored response plans for long-term implementation of mitigation measures, should an eruption event occur.
Our programme is structured into three research projects:
Explore

We are exploring near-shore volcano islands Whakaari/White Island and Tūhua/Mayor Island, whose past eruptions have affected the Waikato, Auckland and Bay of Plenty regions. Using a combination of geological, and geophysical surveys, on land and at sea, our goal is to establish 3D volcano anatomy models and provide historical evidence of long-term volcano hazards.

Find out more >

Simulate

We are simulating volcanic hazards to help us understand how the hazards occur and their impacts should they happen. Using state-of-the-art simulations of eruptions, ashfall, pyroclastic flow and tsunami, our goal is to determine the likelihood and effects of these hazards on coastal communities.

Find out more >

Mitigate

We are mitigating the effects of island volcanic hazards by shaping useful and usable research outputs for sectoral plans, programmes and policies. Using novel education and outreach methods, targeted advice, and tailored products, co-designed with partners, our goal is to reduce risk and increase community preparedness.

Find out more >