Expedition sets sail to explore understudied hazards of nearshore volcanoes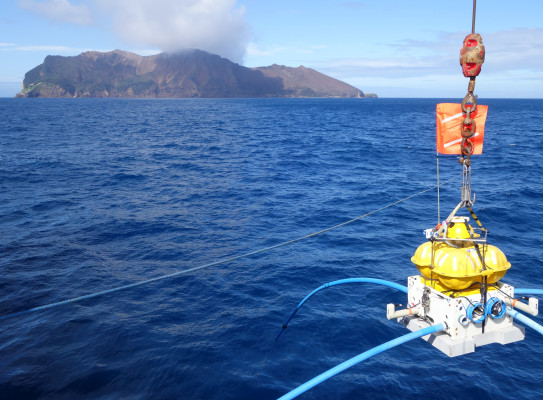 The RV Tangaroa has set sail with a team of researchers to study the multiple natural hazards posed by Tūhua/Mayor and Whakaari/White islands, including their potential to generate tsunami, ashfall and pyroclastic flows of hot ash and gas.
Scientists from GNS Science, Victoria University of Wellington and Scripps Institute of Oceanography (USA) will join the Beneath the Waves expedition to build knowledge of the anatomy of these mostly submerged nearshore volcanoes as well as their geologic history, including previous eruptions and flank collapses, both of which can generate tsunamis.
The team of researchers will deploy cutting-edge research instruments around the islands to collect new data on the islands' magmatic and hydrothermal systems and search for evidence of past eruptions hidden in seabed sediment layers.
GNS Science Senior Volcano Geophysicist and Programme Leader Craig Miller said the research will underpin the development of robust seafloor to summit conceptual models of the volcanoes' plumbing systems and anatomy.
3rd Beneath the Waves expedition sets sail to explore understudied hazards of nearshore volcanoes
The expedition from 12 to 25 October will undertake two deployments of 40 ocean bottom electromagnetic receivers to image the locations of the magma systems that drive eruptions beneath the island volcanoes.
Ash layers from previous eruptions buried in seabed sediment will be collected using piston cores. Analysis of the sediment layers will help identify how often and how large ash-forming eruptions and pyroclastic density currents occurred in the past and improve long-term probability forecasts of future eruptions.
"Fully quantifying volcano-hazard potential requires complete understanding of a volcano's anatomy, history, and dynamic hazard processes," Dr Miller said.
"The Beneath the Waves programme uses multiple innovative methods to image these volcanoes and build a comprehensive picture of a range of hazard scenarios. So, when future events occur, whether an eruption or a tsunami, or both, we know what to expect and are prepared for all possible hazard impacts."
Beneath the Waves is a GNS-led MBIE Endeavour programme delivered with collaborators from University of Canterbury, Massey University, Victoria University of Wellington, East Coast Labs and Bay of Plenty Civil Defence and Emergency Management.
More information on the Beneath the Waves programme is available at www.beneaththewaves.org.nz(external link)