Volcano science activity boxes ready for schools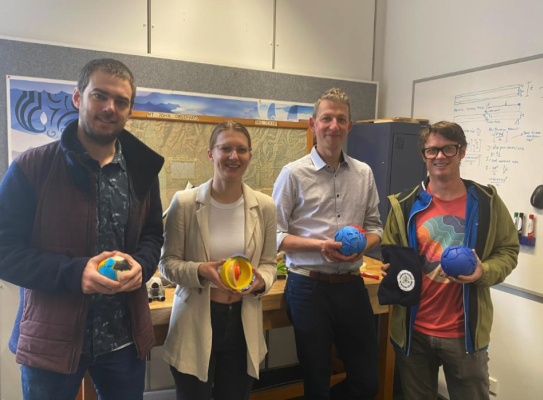 What forces happening beneath our feet cause constant movement and change in the Earth's landscape? Why do volcanoes erupt?
Answering these questions is the goal of hands-on volcano science activity boxes, available to schools around Aotearoa New Zealand. Students are given the resources to model the movement of tectonic plates, and learn about different types of volcanoes, volcanic eruptions and identify volcanic rocks.
Non-profit organisation Te Whare Pūtaiao | House of Science(external link) collaborated with Professor Ben Kennedy supported by the Beneath the Waves programme, as well as other researchers and research programmes, to develop the volcano-focused resource. The kits were test driven at VolcanoFest.
Read more in this University of Canterbury media release: UC research inspires eruption of fun for Kiwi kids(external link).
Header image: The UC team showcase the 3D spherical puzzle from their House of Science volcano kit. L-R: Dr Jonathan Davidson, Rebecca Haisman, Dr Nick Emerson and Professor Ben Kennedy. [Photo: UC]